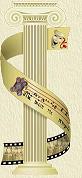 ISPAN
Institute of Art of the Polish Academy of Sciences, Warsaw, Poland
Ewa Dahlig-Turek & Jacek Jackowski / ISPAN
The Institute of Art of the Polish Academy of Sciences in Warsaw carries out research on Polish art and culture in the fields of past and present-day architecture, fine arts, music (including Polish folk music) theatre, and film in their European and world-wide relations, as well as studies on theoretical and methodological problems in the disciplines represented at ISPAN. The Institute preserves the largest and oldest collection of Polish folk music recordings as well as unique collections of over 450 000 photographs of works of art and monuments.
Established in 1949, and functioning since 1959 within the structure of the Polish Academy of Sciences, ISPAN celebrates this year two important anniversaries. This double jubilee is a good opportunity to look at our sound archive which underwent revolutionary transformation, particularly in last three years.
The archive is the oldest and the largest collection of folk music recordings in Poland. With its over 100 000 songs and instrumental tunes, as well as the large section of written documents (manuscripts, letters, journals and photos connected to the filed-research), the ISPAN sound archive is a true national treasure of Polish folk music, and in many cases the only source of knowledge of the vanished tradition.
The oldest recordings (two wax cylinders) date back to the 1904. So, our recordings are almost as old as the history of phonogram archives in Europe (1899 Vienna, 1900 Berlin). After some individual recordings made in 1904-1914, the inter-war period was dominated by two major phonographic institutions: the Regional Phonogram Archive established in 1930 by professor Łucjan Kamieński at the Poznań University, and the Central Phonogram Archive, established in July 1934 by Dr. Julian Pulikowski at the Polish National Library in Warsaw. Unfortunately, both collections were almost entirely lost or destroyed in World War 2, so today's ISPAN resources are built on the basis of recordings which started immediately after the war in summer 1945. In 1949 recording was taken over by the newly created Institute of Art, where folk music section became one of the departments.
In the period between 1950 and 1954 the Institute participated in the nationwide campaign to collect folk music. It was an enormous initiative in which over 300 documentalists took part. Divided into regional teams, they made some 46,000 recordings with the technical help of the Polish Radio. The campaign raised much interest (and even sensation) among village people. Unlike today, recordings were made sometimes in public, with a crowd surrounding recorded performers and collectors.
Field-documentation of that time was limited by technical and financial means. For example, to save the tape, only two first stanzas of songs were recorded. Field-recordings are no longer as intensive as they still used to be 20 years ago. Due to natural processes and irreversible changes, traditional Polish music represents today only shadows of its rich past, therefore our major concern is now to protect the collection from devastation and to use it in a way appropriate for the 21st century. This means first of all electronic access to the metadata, but also to audio.
---
DISMARC created an excellent frame and facilities for sharing ISPAN's audio resources with public users worldwide. The growing number of online requests demonstrates the efficiency of the solutions applied in this project, including multilinguality.
Due to complicated IPR issues, we started with the oldest recordings ("decelith" plates) of 1945-50 of which more than 1700 items we made available via DISMARC. This collection, although technically quite poor, constitutes a very interesting and valuable repository of sound examples from such regions of Poland as:
Wielkopolska [Great Poland] - a region situated in the western part of Poland.
The recording team paid particular attention to this region, trying to reconstruct RAF recordings of the 1930-ies, lost in WW2. As the symbol of the musical tradition of Wielkopolska is bagpipe (dudy), this instrument is most visible in the recorded repertoire, often accompanied by fiddle. Most of the performers were born in the 19th century, therefore they represented the original style of variation-like playing. Popular folk dances in Wielkopolska were wiwat, chodzony ([a walking dance), okrągły (a round dance), równy (an even dance), polka and oberek.
Opoczyńskie - the region around the town of Opoczno, on the southern boundaries of Central Poland.
The region is known of short vocal couplets which are vivid and often improvised. The vocal style of Opoczyńskie is characterized by a full, strong and intensive voice emission, with exclamations performed, especially by women, at the end of musical phrases. A traditional band of Opoczyńskie consisted of fiddle, three-string bass (basy) and/or a small one-sided drum with cymbals. Popular folk dance-games of the region are miotlarz (a broom-dance) and owczarek (shepherd).
Rzeszowskie - the region around the town of Rzeszów, situated in the south-eastern part of Poland.
The old set of folk music ensembles of Rzeszowskie, consisting of fiddle and basy, would traditionally play dance tunes, like different types of polka (e.g. wściekła = mad, drobna = fine, galopka = running, szalona = crazy)
Lubelskie - the region has its name the town of Lublin and is situated in the south-eastern part of Poland, bordering Rzeszowskie.
The vocal and instrumental music of this region is influenced by the culture of Eastern Slavs, with old wedding songs of free rhythmic structure, long musical phrases and narrow-range melodies. Instrumental music is represented by tunes performed by solo fiddlers or by an ensemble of fiddle and one-sided drum with cymbals. The most popular dance in Lubelskie was the oberek and its slower variant Majdaniak.
---
Recordings available through the DISMARC portal are the oldest sound documents presenting the traditional folk music of Poland.